Flea Bites Vs Bed Bug Bites. What Do I Have?
May 27, 2020
Determining the cause of insect bites isn't always easy. During Spring and Summer flea and mosquito populations spike to the highest they will be all year. Outdoor activities increase the chances for flea and mosquito bites to occur. At the same time, summer travel and vacationing increases and therefore so do bed bug infestations as they are spread from person to person contact, or more commonly, person to hotel to person. If you're finding bites but don't know what's causing them, here are a few helpful clues to look for.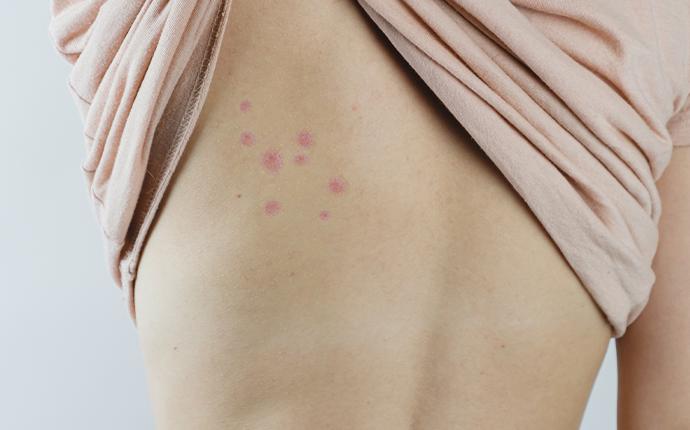 PLEASE NOTE: INSECT BITES AFFECT EVERYONE'S BODY DIFFERENTLY. THIS GUIDE IS A TOOL TO HELP BUT MAY NOT REFLECT YOUR OWN PERSONAL EXPERIENCE OR SYMPTOMS. ALWAYS CONSULT A PEST CONTROL PROFESSIONAL TO INSPECT FOR BITING INSECTS IF YOU AND/OR YOUR FAMILY ARE BEING BITTEN REPEATEDLY.
Flea bites are most commonly found on the legs, feet, waist, or armpits but can appear anywhere the insect has access to. The bites will often look red, swollen, somewhat blotchy, and may constantly itch. They commonly come with rashes as well.
Bed bug bites are typically different from flea bites and can resemble small, hard, swollen lumps similar to a mosquito bite and appear most often on the hands, neck, and arms. As with fleas, bed bug bites may itch as well.
Fleas prefer animals and any pets will likely be itching or biting themselves. They may also develop patches of lost fur. A flea comb can be used to check pets for fleas or flea eggs, though it takes a keen eye to watch for fleas as they're quick to jump. Another sign of fleas are flecks of what appears to be dirt, that's actually flea feces. The small dots will leave red rings of blood if touched with a wet tissue. Helpful hint: wearing long white socks can make it easier for a homeowner to tell if brown fleas are jumping on them.
When looking for bed bugs start with the bed and the surrounding area and keep an eye out for rusty stains that may have resulted from rolling over and crushing a bed bug in their sleep. There may also be dark spots about the size a dot you'd make with a Sharpie marker, that seem to have bled into the fabric. This is bed bug feces or blood stains from your bites. One may also see live bed bugs, which are easier to spot than fleas since bed bugs are larger. A bed bug has a flat, oval shape with a reddish-brown appearance. An adult bed bug is about the size and shape of an apple seed. Bed bugs don't jump or fly and are fairly easy to capture a sample for your pest management professional to positively ID.
We provide inspections for both fleas and bed bugs at no charge to our local areas. We also provide no charge pest identification to residents in our service area via text at 562-925-8308 if you need confirmation of the pest you're dealing with. To set up a no-charge inspection or for any questions please click HERE TO CONTACT US.
Sourced in part from: Doctor's Health Press, MyPMP.net
Previous
Next