Quality Pest Control Services In Orange County, CA
Orange County is a region located in southern California and is known as a common tourist area with close access to Anaheim's Disneyland Resort and the nearby Buena Park. Whether you live or work here in Orange County, you've probably dealt with pest problems at one point or another.
To protect your home or business from pests, the professionals here at Admiral Pest Control are proud to provide top-of-the-line residential and commercial pest control services that utilize Integrated Pest Management (IPM) techniques and the latest pest control advancements. Since 1947, we've protected Orange County properties from rodents, termites, cockroaches, and other pests. Contact Admiral Pest Control today to ask about all of our effective pest control services or to schedule your free inspection.
Residential Pest Control In Orange County, CA
No matter where you live, pests will find a way to create problems in your home at some point. Insects, rodents, and other common household pests invade while searching for sources of food. Unfortunately, once they venture inside and gain access to food and water, pests aren't too keen on leaving.
Turn to the licensed pest technicians here at Admiral Pest Control for the effective home pest control services you deserve. We are happy to find the right solution for your specific pest problem. If you're ready to say goodbye to pest problems, Admiral Pest Control has you covered.
Signs Of Rodent Activity In Orange County, CA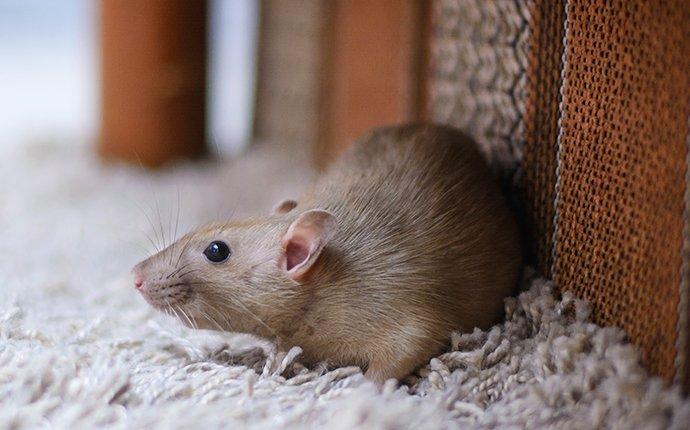 Did you know that about 40% of all mammal species are rodents?
Rodents
are widely recognized as one of the most common pests to invade residential and commercial properties. Mice and rats know they can find easy access to food, water, and shelter around human environments such as homes and businesses. Unfortunately, invading rodents are capable of spreading dangerous diseases, contaminating food items with harmful bacteria, and damaging personal property with their constant chewing behavior.
No matter what you do to stop them, rodents can still find a way to invade your Orange County property and cause problems. Look out for a few of these signs to identify if rodents are living in or around your property:
Gnaw marks - Rodents have long front teeth that never stop growing. Rodents will chew on furniture, structural beams, wires, piping, drywall, and all kinds of other things to prevent their teeth from growing too long.

Holes chewed into bags of food - Rodents often chew through plastic bags and paper boxes to reach the food stored inside.

Small, black droppings - Rodent droppings are typically black and can be found in drawers, shelves, and attic spaces.

Rustling in the walls at night - Rodents are nocturnal, which means they sleep during the day and awake during the night to forage for food.
Rodents are dangerous pests that should always be handled by professionals. If you believe rodents are living in or around your Orange County property, reach out to the pest technicians here at Admiral Pest Control today for immediate
rodent control solutions
.
How To Prevent Termites In Orange County, CA
Termites are common pests found throughout the majority of the United States. These tiny insect pests are active year-round and can inflict serious damage to the structure of your Orange County home or business.
To avoid termite damage, it's important to reduce factors that could attract them to your property in the first place. Keep a few of the following termite prevention tips in mind to protect your property from termites:
Minimize sources of excess moisture, such as faulty piping, broken faucets, and dripping A/C units.

Clear debris out of your gutters and ensure your downspouts direct water away from your exterior walls.

Trim back thick shrubs and foliage to allow the sun to dry up excess moisture around your foundation.

Seal cracks and crevices around the exterior of your home.

Remove wooden materials from your lawn, such as sticks, stumps, logs, and fallen trees.
At Admiral Pest Control, our goal is to keep the area's toughest pests out of your Orange County home or business. We have a deep understanding of area pests and how to keep them away from your property. Give Admiral Pest Control a call today to learn more about our termite control process.
Commercial Pest Control In Orange County, CA
It should be your top priority to keep pests out of your Orange County business and away from your customers. As a business owner, it's your goal to keep your customers satisfied with quality products and services, but when pests invade your commercial facility, they can threaten the health and safety of your customers and put the reputation of your business at risk.
The smartest way to handle commercial pest problems is by working with the professionals here at Admiral Pest Control to put into place a year-round commercial pest control plan. Protect your Orange County business from pests by getting in touch with us today!
Schedule Your Free Inspection
Complete the form below to schedule your no obligation inspection with Admiral Pest Control, Inc..
Affiliations & Accreditations