How Did I Get Bed Bugs In My Orange County Home?
August 14, 2020
These hitchhiking bloodsuckers certainly aren't the best of housemates, and what's worse, they're planning on staying with you for a long, long time. Bed bugs may be known as the hitchhiking bug, but it has never kept them from overstaying their welcome.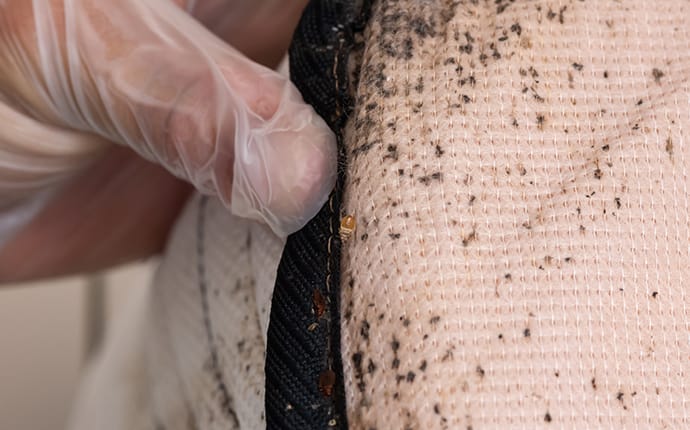 Approximately 4 – 5 millimeters long at adulthood, bed bugs appear in color patterns of red and rusty-brown. Flat, shield-shaped bodies and tiny antenna give them a squat or squished appearance. While these creatures are small, they certainly are not invisible. In fact, it is their unobtrusive size that often leads homeowners to ask the question, "how did bed bugs get in my house?
Ways That Bed Bugs Infiltrate Orange County Homes
Bed bugs are crafty creatures and may enter into a home using a variety of methods.
Common bed bug "hot spot" areas, especially hotels and public transportation stations, are simply unavoidable for most Orange County residents. By latching themselves to luggage, clothing, or even people, bed bugs travel from host to host in record time.
Some ways to avoid picking up bed bugs while in 'hot spot' environments are:
Washing and drying clothing on the hottest possible setting after returning from a trip
Storing luggage and transport bags up high and off the floor
Checking seats or benches for exoskeletons, excrement spots, or other signs of bed bug presence
Leaving a hotel or motel room immediately after identifying potential bed bug signs
Another common way that bed bugs get into homes is through the purchase of used goods. Upholstery, mattresses, and even electronic appliances are all suspect for bed bug transport unless properly inspected. When purchasing second-hand items, consider:
Leaving your purchased item outside or in a space outside the home until it can be properly checked
Using a flashlight to scour for blood spots, exoskeletons, excrement spots, or even white bed bug eggs before purchasing the item
Hiring bed bug experts or inspection professionals who can ensure your home is free of pests before selling any goods
There are many facts homeowners must consider during a bed bug infestation. Deciding how, when, and where the bugs have established themselves is perhaps the most important of all these considerations. Should bed bugs decide to establish themselves within your home, turn to the professional support of Admiral Pest Control immediately. Our technicians will be happy to provide a complimentary home inspection when you schedule a visit with your nearest Orange County Branch today.
Admiral Pest Control Brings The Thunder To Bed Bugs & Beyond
Bed bugs are certainly a pest to be feared, especially in the warm, sunny climate of Los Angeles. With vacation season on the horizon and an uncharacteristically humid autumn on the way, there's no telling how severe or long-lasting this year's bed bug season will be. Preventative measures may help somewhat, but if a single vector is to enter your house, your home and family will be in immediate danger.
If bed bugs do make it into your home despite prevention measures, contact the professionals at Admiral Pest Control right away.
With years of experience protecting homes and businesses from the bed bug hordes, our technicians are proud to be an industry leader for Orange County and beyond. Since 1947, Admiral Pest Control has been the oldest family-run pest control businesses in Bellflower. By treating every one of our customers, staff members, and partners as our equal, we have quickly become one of the most respected pest control organizations in the Orange County area.
So why wait any longer? Call the bed bug experts at Admiral Pest Control now, or chat with us online using our text tool. We're ready to get started! Are you?
Previous
Next