Quality Pest Control Services In Anaheim, CA
Known for being home to the infamous Disneyland Resort, the city of Anaheim is a tourist hot spot. As fun as it can be here, there's a problem lurking around town that property owners should know about. Increased human activity brings about increased pest activity, and that means Anaheim's homes and businesses are vulnerable to potential pest infestation. Pest infestation can cause a lot of problems, and it's especially bad for tourism. If you want to secure the proper pest protection, it's a good idea to get in touch with the pest professionals. Luckily, you've come to the right place.

The team at Admiral Pest Control welcomes you. We are Anaheim's local source for quality pest control services, and we're proud of the work that we do. We are a family-owned and operated company that has been servicing local properties with residential and commercial pest solutions since 1947. As one of the oldest family-run pest control companies in the area, we're proud to bring our customers over 75 years of experience in the world of pest elimination. Call us today to get started.
Residential Pest Control In Anaheim, CA
As a homeowner, there are certain threats that you should be knowledgeable about. Pest infestation can be very harmful to your home and your family. There are serious health and safety risks that come from pest activity, and that puts your loved ones in harm's way. That's why it's absolutely crucial that you find yourself the proper pest protection. You're in luck because the team at Admiral Pest Control is here to help. We're proud to provide local homeowners with year-round coverage from pest activity.

Our residential pest control solutions cover you and your loved ones from a long list of consequences, giving you continued protection that you can count on. Beginning with a thorough inspection, we identify existing pest activity, as well as harborage areas and entry points. Our monthly, bi-monthly, or quarterly service visits are scheduled at your convenience to maintain pest-free conditions moving forward. Contact us today for your free estimate and inspection. Our team is here to help, and we won't stop until your home is completely pest-free.
Consequences Of Rodent Activity In Your Anaheim, CA Home
The sight of rodents in your house is something straight out of a nightmare. It's a situation that no homeowner wants to face, as when these intruders get inside, they can cause a lot of problems. Here are just some of the consequences that can result from rodent infestation:
Contaminated insulation

Exposure to rabies and other diseases

Gnawed electrical wiring

Trails of droppings of excrement

Rapid breeding and spreading of the infestation

Scampering noises inside of wall voids

Serious structural damage

Weakened construction

Widespread contamination
It's important to avoid these issues at all costs, and there's only one effective way to do that. The best thing you can do is secure professional pest protection. Admiral Pest Control offers dependable rodent control and prevention services to give you year-round protection from these pests and the many dangers they can cause. Reach out to us today to learn more.
Are Bed Bugs Detectable In Anaheim, CA?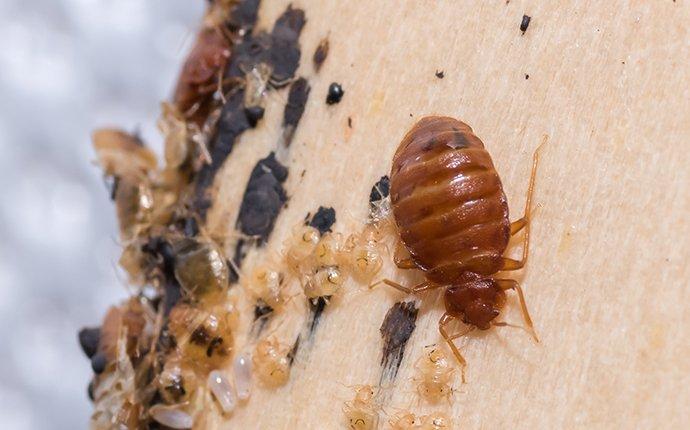 Bed bugs are parasitic pests that suck on human blood at night. That means they only feed on us while we're sleeping, and that's just plain old disturbing. Not only that, but it also makes it hard to catch bed bugs in the act of feeding. There are, however, a few signs you can look out for:
Dark, rusty excrement spots left on active areas.

Discarded eggshells left around harborage areas.

Small, red bloodstains left behind on linens and bedding.

Waking up with small red bites in a linear formation.
If you think you may have a bed bug problem in your home or business, it's important to call in the pest professionals right away. Here at Admiral Pest Control, we provide comprehensive bed bug control services that effectively rid your property of these intruders so you can sleep through the night. Call us today for an inspection and to discuss treatment plans!
Commercial Pest Control In Anaheim, CA
If you want your Anaheim business to succeed, it's important to consider your pest control needs. Infestation can cause serious problems for your employees, customers, property, revenue, reputation – the list goes on. If you're looking to effectively protect your business from pests, you've come to the right place. Here at Admiral Pest Control, we offer complete commercial pest control solutions that guard local businesses against infestation.

Our services cover a wide range of facilities from pest activity, some of which include hotels, apartments, warehouses, industrial complexes, and many others. Through the use of trusted IPM (Integrated Pest Management) solutions, we tackle your pest problem in an environmentally sensitive manner that you can feel good about. In addition to our general pest control services, we offer specialty services for rodents, bed bugs, and mosquitoes. Get in touch with us to discuss your commercial pest control needs today.
Schedule Your Free Inspection
Complete the form below to schedule your no obligation inspection with Admiral Pest Control, Inc..
Affiliations & Accreditations